Cabinet Code Lock
Our client needed a low cost, low power keypad access control to connect to one of their existing motorised lock products.
Products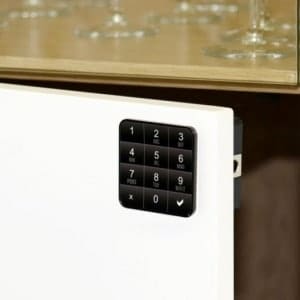 Challenges
The keypad needed to be small, thin and inexpensive. It also needed to have multiple modes of operation, depending on the application.
Solution
The solution was a custom designed single PCB with low profile push button keys and access control built in. The processor could be configured in the factory to allow the mode of operation to be set after manufacture  this inexpensive keypad.
Benefits
The client now has the ability to add an electronic version of their mechanical locks to their product range, gaining all of the benefits of electronic locking over mechanical locking.